6
10 Essential Marketing Skills Every Person Should Know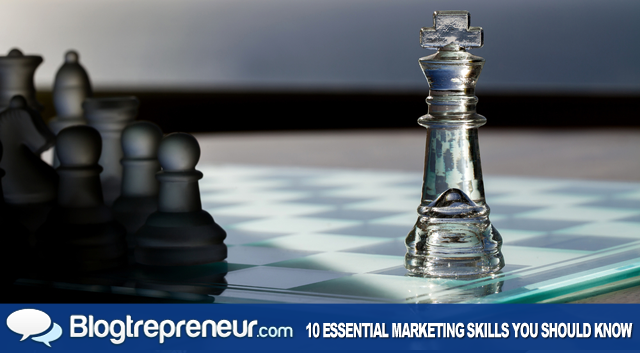 Marketing is the foundation of any brand. Without a good marketing campaign you'll never be able to achieve your goals and visions for your project. Whether you are a one-person army or have a team of workers aiding you, these 10 essential marketing skills are ones you need to familiarize yourself with.
1. Perfect Your Story
Without a good story you won't gain any interest from customers, clients, partners, etc. The way you convey your story will be how your audience perceives you and your company. Think of how you want people to see your company and write your story accordingly.
2. Keep Up In-Person Skills
Texting, instant messaging, and email have taken over. It's easy to become lax with our in-person communication skills when we aren't exposed to it often. For the sake of your long-term success, being able to express yourself in-person is necessary.
3. Collaborate and Network
An important marketing skill is being able to effectively network with like-minded people. Collaborating or networking with others opens up doors and helps you gain skills for your own marketing campaign.
4. Understand SEO and Apply It Properly
It's all about keywords. SEO is something you need to familiarize yourself with. If you're a marketer you must stay up to date with the latest changes and always review the techniques you use.
5. Be At Home with Social Media
We all know social media is huge. From a marketing aspect, understanding how the most popular platforms work is a must. How can you leverage one of the most powerful marketing tools if you don't understand how it functions?
6. Focus on Numbers
Going by your gut feeling isn't going to get you very far. Understanding the importance of averages, ROI, and how to track traffic is a key skill for everyone. A metric driven marketing campaign will help you achieve your goals.
7. Craft a Killer Pitch
Crafting a killer pitch for marketing purposes can be difficult. You will need a compelling story, writing skills, and an understanding of your audience. Your business is competing with hundreds (or more) other businesses. The pitch needs to hook the audience and prove you are the right choice.
8. Know Your Audience
Your audience is everything. They are potential consumers who may become loyal customers if your marketing is done right. Knowing how to read your audience and their needs are important. Paying attention to their feedback through social media is a great way of achieving this.
9. Be Persistent
Persistence and marketing go hand in hand. Those who are persistent with their endeavors will be around for a long time. Along with entrepreneurship come harsh realities and occasional failures. Be persistent and confident to get through these times.
10. Constantly Feed Your Brain
The business and internet world is constantly evolving. Never fall into the trap of thinking that you "know enough". Read up on blogs regularly, check out some books, and find a mentor. Constantly feeding your brain information will keep you from getting dull.