249
101 Essential Blogging Resources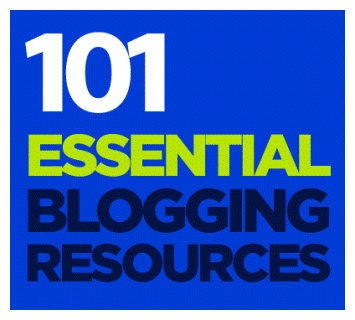 Update: There are now 122 resources, so thanks for your suggestions and keep them coming!
With the amount of tools and programs cropping up all over the web for every type of person imaginable, its about time that someone wrote a massive list of resources for bloggers. Fortunately, I've taken up that responsibility to share with you some of the tools I use in my daily blogging life. Please note that by no means is this a definitive list, so please let me know if you think I've missed any out!
Domain Registrars
//
If you're starting up on the web, then you're gonna need an address where people can reach you:
1. Namecheap – $8.88 per year with free WhoisGuard
2. GoDaddy – $8.95 per year (and lower)
3. 1&1 – $5.99 per year with free private domain registration
4. MyDomain – $8.25 per year
Hosting
Once you've got yourself an address, you're gonna need a house to store all of your juicy blog posts – so grab yourself some server space:
1. Dreamhost – Great plans, great prices with loads of bandwidth and diskspace.
2. Frozen Webhost – Small company but only $5/month and very reliable.
3. Media Temple – Awesome recommendations, grid and dedicated hosting.
4. Rackspace – Managed, dedicated and scalable web hosting for businesses
5. Hostgator – Shared hosting at $6.95 per month
6. Bluehost – Affordable, Reliable, Web Hosting Solutions

Content Management Systems
These babies are the core of your blog, so choose carefully. Take pricing, customization and aesthetics into account for this one:
1. WordPress – The industry standard and most widely used – and its FREE!
2. Blogger – quick blog creation, but FTP can be slow and you don't have full control
3. Typepad – another blogging platform, but pricing from $4.95/month
4. Joomla – CMS and Web Application Framework and free
5. Drupal – Full-featured content management/discussion engine suitable to setup a news-driven community or portal site
6. SquareSpace – Publishing system for managing websites and blogs
7. Movable Type – Weblog publishing system developed by California-based Six Apart
Communication
If you want to be a proper blogger, you've gotta communicate with your fans. Instant Messaging and Email are the quickest and easiest ways to do so:
1. Gmail – Free web-based email service that includes over 2 GB of storage (and growing)
2. Hotmail – Free web-based e-mail with 2GB e-mail storage
3. Yahoo Mail – Free web-based email with unlimited mail storage
4. Outlook – Email manager which can be used with MS Exchange Server for shared mailboxes
5. Windows Live Messenger – Instant messaging program, talk to Yahoo contacts as well!
6. AIM – AOL Instant Messenger, free online chat service
7. Gtalk – Instant communication in conjunction with Gmail
8. Yahoo Messenger – Free instant messaging with file sharing
9. Basecamp – Project collaboration, management and task software
10. Campfire – Real-time group chat for businesses
11. GoToMeeting – Web conferencing and online meetings service
12. Thunderbird – Open source cross platform email from Mozilla
13. Meebo – IM service which supports MSN, Yahoo, AIM, Gtalk and Jabber
14. Twitter – Social networking and microblogging service utilizing instant messaging, SMS or a web interface
15. Skype – Free internet calling from PC to PC
Research
To be the best, you've got to overcome the rest, so find out what your competitors are doing, and beat their blogs at their own game:
1. Whois – Domain and registration name look-up
2. Overture – Keyword selector and traffic analysis tool
3. Google Bid Analysis – Keyword Bid Tool in conjunction with Adwords
4. Wordze – Keyword research tool from $35/month
5. Firefox Search Status Extension – see how any and every website is performing
6. SEO for Firefox – Useful research and data, with loads of other tools
Customization
Standing out from the crowd is very important in this growing blogosphere. Take a look at these tools to help you and your blog look sharp:
1. WordPress Themes – Collection of free WordPress themes with graphical and textual preview
2. Template Monster – Premium WordPress themes from $50
3. Dreamweaver – Web development and streamlined coding environment
4. Adobe Photoshop CS3 – Image editing software from $649
5. iStockPhoto – Royalty free images
6. FlashDen – Buy stock flash, video, audio and fonts for as little as 50 cents
7. FamFamFam – Sets of icons available for use free of charge
8. Adobe Illustrator – Leading vector-graphics software
9. Filezilla – Fast and reliable FTP client
10. Cyberduck – Secure FTP for MAC OS X
11. Websitez – The WP Mobile Detector is a premium WordPress plugin that will mobilize your blog in minutes!
Track your blog's every move with these statistics packages so you know what you're doing right and what you should be spending some more time on:
1. AWStats – Free log analyzer, normally already in your Hosting Cpanel
2. Statcounter – Free yet reliable web tracker and hit counter
3. Sitemeter – Free basic counter and site statistics tracker
4. Google Analytics – Trendy interface with detailed site statistics, integratable with Adwords campaigns
5. Feedburner – Manage and track RSS Feed Readership
6. Mint – Extensible website analytics program, all on 1 page!
7. 103Bees – Search engine traffic analysis and statistics tool
8. pMetrics – The new Performancing Metrics with detailed visitor information and clean interface
Creating Posts
Your articles are the things that will matter the most above all else. So take the time to spell-check and to make sure that they look presentable:
1. ScribeFire – full-featured blog editor that integrates with your browser
2. Spellbound Spell Checker – Firefox extension that enables spell-checking
3. Microsoft Word – Industry standard word processor
4. Adobe Reader – PDF file reader
5. SlimTimer – Time tracking
6. Ta-Da Lists – Simple list making and tracking
7. BlogDesk – Free offline weblog client for creating and publishing posts
Ranking
When it comes down to the crunch, you've gotta be the best. So find out if you are with the following ranking tools:
1. Technorati – The Internet Search Engine for blogs, provides popularity and authority ranks
2. BlogTopSites – Directory of the Best Blog sites
3. Alexa – Traffic rankings and graphs (sometimes can be inaccurate)
4. Live PageRank – Displays current Pagerank Value in Google index
Feedreaders
In order to build a solid readership, you're gonna have to do some reading yourself. Using a feed reader can cut down on the time you spend going from site to site, and you can have one place where all the latest articles will appear:
1. Google Reader/Homepage – Web-based RSS and News Aggregator
2. Bloglines – A web-based personal news aggregator that can be used in place of a desktop client
3. Newsgator – Free online RSS reader
4. NetNewsWire – Award winning RSS Reader for MAC
5. Socialist – Social bookmark manager that works with del.icio.us and RSS feeds
6. FeedDemon – RSS Reader for Windows Desktop
7. NetVibes – Personal news aggregator with RSS and Atom support
8. NewsFire – MAC RSS with style
9. Omeo Pro – All-in-one feed reader
Social Media
Using social networking can help market your site to a big audience which is essential for your blog's growth. Spend some time networking yourself and submit your best articles to find more readers:
1. Digg – Stories and submitted and voted to the front page by the community
2. Del.icio.us – A social bookmarks manager. Using bookmarklets, you can add bookmarks to your list and categorize them
3. StumbleUpon – Channel surf the internet with the StumbleUpon toolbar, can be a huge source of traffic
4. Reddit – User-generated news links. Votes promote stories to the front page
5. MyBlogLog – Free site stats, and a cool widget to find out who's been visiting your site
6. LinkedIn – Online network of 11 million experienced professionals (including bloggers)
7. Facebook – One of the fastest growing social networking sites on the net
8. Myspace – Free social networking which has blogging capabilities and ability to attract a lot of friends!
9. Squidoo – Set up your own lens (sub-site) and spread the word about your blog
10. Ning – Create your own Social Networks
Monetization and Advertising
Whether you want to or don't, blogs can be a fantastic way to make some money online, so check out the following ways you can earn yourself some cash online:
1. Google Adsense and Adwords – Contextual advertising solution and make money through Pay-Per-Clicking
2. Adbrite – Webmasters can buy and sell text ads based on their site's topic area
3. iSell Ads Network – Monetize your online content by displaying relevant classified ads
4. Text Link Ads – Sell static HTML links on your blog sidebar and post for $$/month
5. Kontera – In-Text Advertising on Cost-Per-Click basis
6. Chitika – CPC Revenue due to displaying of related products
7. BlogAds – Image and Text Ads for set prices per month
8. Amazon Associates – Link to Amazon products and earn a commission from 10% per product
9. Commission Junction – An online advertising and internet marketing company that specializes in performance-based affiliate programs
10. ReviewMe – Review products/websites and receive a flat-fee. Reviews must be nonbiased and stated as sponsored
11. Feedvertising – Sell links in your RSS Feed for set price per month
Blogs and Forums
These blogs are forums are must-reads for every aspiring blogger, so take some time to browse through the archives and read some threads to make sure that you've got all the knowledge about your field and your blog:
1. Problogger – the No.1 site about blogging
2. Daily Blog Tips – Focusing on blog promotion, monetization and optimization
3. Blog Herald – Premium source of blog and blogging related news for bloggers
4. John Chow – This guy makes a lot of money through his blog online. Articles especially on monetization
5. Digital Point – Sub-forum related to blogging with other areas on SEO and Optimization
6. Namepros – Buy, sell and discuss domain names
7. Sitepoint – Web design tutorials and a buzzing community and marketplace
8. YoungEntrepreneur.com – Full of online earners and Entrepreneurs eager to assist you
9. DoshDosh – A blog about making money online through affiliate marketing and advertising and social media
10. QuickOnlineTips – Technology news, blogging tips, useful computer software and web services.
11. Lorelle on WordPress – The WordPress Blogger!
Miscellaneous
And finally, here's all the other tools that wouldn't in any of the above categories:

1. Paypal – The best way to send and receive money online
2. Nochex – UK Based online payment company
3. Escrow – Third party which protects buyer and seller in larger transactions (blog sales?!)
4. WorldPay – Offers a range of e-payment and e-commerce solutions
5. CreativeCommons – You need to protect your articles!
6. Ezine Articles – Article submission website for PR and authority
7. ArticlePR – Article submission tools
8. PRWeb – Press Release Distribution for small business
9. Six Figure Blogging – Blogging course made by Problogger Darren Rowse himself and Andy Wibbels
10. SEO Book – Aaron Wall's famous Search Engine Optimization book
11. Blog Mastermind – Yaro Starak's blog mentoring program
12. Flickr – Online photo management and sharing application
13. Blog Profits Blueprint – Free ebook in PDF format about making money with blogs from Yaro Starak
The idea for this post came from FreelanceSwitch's awesome post on 101 Essential Freelance Resources and graphic was designed by JetPacked.