The 3 Signs That You've Outgrown Your Home Office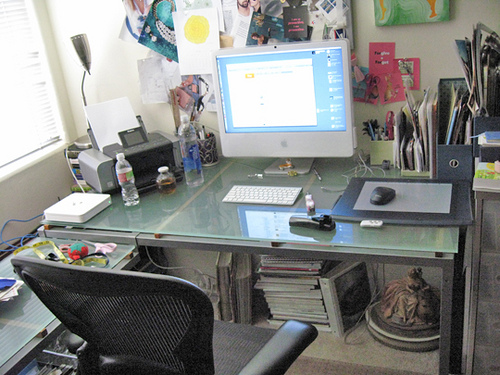 There's no place like home. Especially if you're a small business. This is how a vast number of start-ups begin, with one of the most famous being, of course, Apple. The garage initially used by Steve Jobs at his family's modest ranch-style home in Los Altos, California, was even granted historic site status in 2013.
The Guardian has estimated that 80,000 workers in the UK are commuting only as far as the bottom of their garden.
Options range from fairly basic garden sheds to luxury spaces whose cost rivals that of an extension. Fully fitted with utilities and away from the bustle of family life, this can be the ideal space from which to build a business.
What happens when you need to move the business forward? Without anywhere to put an extra body, the business can't expand and do you really want your new employee to come into your home space every day?
Here are some questions you should ask yourself when deciding to set up business at home or away.
1 – Are you clients happy to meet at your home?
Not all home businesses are client facing and some sales roles involve visiting the customer more then you being visited yourself. Keep in mind that some clients will want to see your setting and they will judge knowingly or not on your surroundings. Is your home office giving the right impression of a business really going somewhere?
2 – Do you want to keep control of everything?
With Wi-Fi, cloud, remote desktop solutions and more you can easily set up lots of remote home offices worldwide and work together as one. But it begs the questions how much control do you then have over your business?
Remote working is a great option for flexible working but when a new employee starts or a piece of new business is taken on having all your employees in one office under one roof singing from the same hymn sheet with the same access to information is the ideal situation. If you employ a remote PA is it as effective as an in office assistant?
3 – Do you have enough space?
Ask yourself if you realistically have room for another body in your office? It is not just the human either they need a desk, PC, computer, filing cabinets etc. With that extra person comes extra work load which is great for the business but do you have enough room to keep all the records and work productively without getting bogged down in papers?
Try this handy office space calculator to work out how much space you'll need.
The small business and SME in the UK is a major player in the UK economy, with home working increasingly popular. It's a great place to start. But an office is a great place to grow.
Open your eyes to new ways of working, modern office space can be tailored to you, London organisations like Morgan Pryce can source work spaces and then model and design them to your specifications, perhaps with hot desks, open spaces or particular facilities.