The Best Carry On Luggage For Men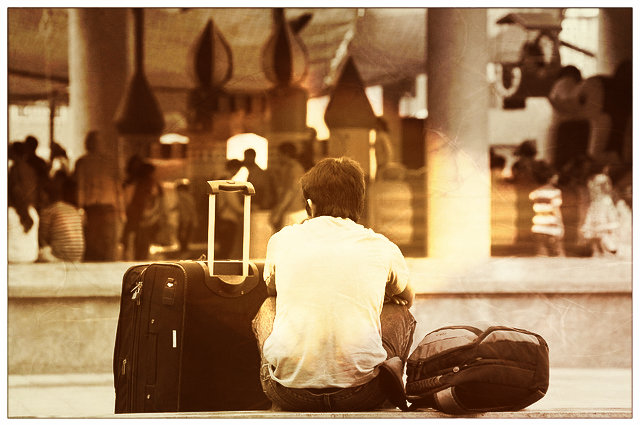 If packing effectively be the art-form, then luggage is the canvas. Luggage will make or break a traveler's business trip. Thousands of business travelers opt to take their carry-on with them through countless airports saving valuable time waiting at baggage claim carousels and ticket counters.
Given that the business traveler can carry luggage for hundreds of miles a year, carry-on luggage needs to meet a certain set of requirements.
| Model (click product name to read product information on Amazon.com) | Size (inches) | Material | Wheels | Rating out of 5 |
| --- | --- | --- | --- | --- |
| Delsey Helium Aero | 25" high | 100% Polycarbonate | Four twin spinner, multi-directional. | 4.6 |
| Delsey Helium Shadow | 25.2" high | 100% Polycarbonate, Fabric Lining | Rotational wheel system | 4.2 |
| Samsonite Aspire Sport | 25" high | 1680d Polyester | Single directional wheels | 4.0 |
| Samsonite Dk3 | 21" high | 85% Polyester/15% Nylon | Four, multi-directional spinner wheels | 4.7 |
| DTravelPro Crew 9 | 22" high | 100% nylon | Single directional wheels | 3.8 |
The Carry On Luggage Basics
Size Does Matter
The ideal carry-on must be able to fit into an overhead compartment.
More to the point, it must pass whatever checks people at the ticket counter use to determine if your luggage will need to be checked in or not. Each airline has its set of guidelines, but as a general rule 22″ x14″ x9" is going to comply with most North American carrier guidelines.
Something worth keeping in mind is if your bag is flexible enough to expand and you're someone who tends to over-pack your bag then it will need to be slightly smaller than 22″ x14″ x9
Must Be Comfortable To Carry
Let's face it you're going to be constantly lugging this thing through airports. You want to ensure that getting it from A to B is going to be easy.
We've found a couple of things that make for stress-free luggage.
Dual handles: A carry handle on the top of the bag and one handle on one of the long sides of the bag allowing you to carry like a suitcase. The two handles will also give you extra leverage as swing it into an overhead compartment.
Telescopic handles: This one is for all the tall guys out there. Anything lower than your waist and you're stooping. That's going to turn into a nasty backache during the flight.
Padded handles: Guys, take our word on this. You'll appreciate padded handles. Thick padded handles.
Wheels that turn 360 degrees: This is a life saver seriously, Wheels that are locked into a particular angle have a tendency to tip over when you change direction. You don't have the same problem with bags that have wheel mounts that can swivel 360 degrees.
Best Value Carry On Luggage For Men Reviews
Best Value Option Under $200
Best Value Option Under $100
Below there's a brief overview of what we believe are the 5 top carry-on bags for men.
Delsey Helium Aero
Don't let the lack of exterior storage compartments put you off this carry on there's still loads to like for packing options. You will be able to secure your clothes and other important items throughout your travel utilizing the mesh pockets and protective straps. The Delsey Helium Aero comes in a range of colors that fellow travelers are bound to notice. We're sure that you'll agree that this is a slick looking carry-on.
Features
100% Polycarbonate
Zipper closure
29″ high
This carry-on is equipped with two spinning wheels assuring multi-directional rolling and stability that will reduce the stress placed on your hand and wrist.
Recessed "one-button" locking handle system with industrial grade aluminium tubes and molded ergonomic comfort grip handle
clothes and travel accessories
Integrated 3-dial TSA-accepted combination lock
This case is extremely lightweight due to the 100% glossy polycarbonate finish
The two compartments that are lined fully for organizing and packing
Find out more about the Delsey Helium Aero and current best available pricing.
Delsey Helium Shadow
One of the more expensive carry-ons on our lists but there is a lot to like about this piece of carry-on luggage making it one of the best travel bags. For the cost, there's a ton of advanced features included such as a 360-degree rotational wheel system, full interior lining so that your items are better protected. That being said, there's a lot of different compartments included. People find that packing and organizing your belongings is a lot easier because of the additional compartments
Features
100% Polycarbonate
Fabric lining
Zipper closure
25.2″ high
This carry-on is made from 100 percent Polycarbonate making it extremely lightweight and durable. And can expand an additional 2 inches
The rotational wheel system ensures fantastic maneuverability and reduces stress on your hand and wrist
The telescopic handle has been designed to fit snugly into the palm of your hand providing superb control and maximum comfort when pushing your luggage through the airport
Case expands up to 2 inches for additional packing space, features a TSA approved combination lock that provides secure travel and permits TSA agents to open the lock and inspect your bag without damaging the lock
10-year limited warranty
Find out more about the Delsey Helium Shadow and current best available pricing.
Samsonite Aspire Sport Spinner 25
The Aspire Sport is ideal for those travelers that want to travel light. It may be little smaller in overall size, but there's still more than enough room to fit all of your belongings This bag belongs in the best lightweight luggage category. The self-mending zippers means that they never get stuck the other thing that I like is the 360-degree rotating wheel system. All in all, this is a fantastic carry-on bag.
Features
1680d Polyester
25″ high
Sleek rolling wheels offers near effortless mobility
Large, self-mending # 10 coil zippers provide perfect closing and rubberized, distinctive corner protectors guard against everyday wear and tear at critical contact points
Cushioned top, as well as side, carry handles deliver comfort when carrying a fully jammed case
Fully featured interior features a wet pack and mesh pockets for increased organization
Case expands for added packing capacity
Find out more about the Samsonite Aspire Sport and current best available pricing.
Samsonite Dk3 21 Inch
This is quite possibly the best carry-on bag for business travelers. With a sturdy exterior, as well as a big interior, there is much to like about this carry-on approved item of luxury luggage. Some of the advanced features that have been added to the Dkx is the self-mending zippers. If you've ever traveled in the past, you've probably encountered busted zippers before when trying to close your bag. The repairs when this occurs are not cheap! Do yourself a favor and make travel much easier with the Dkx.
Features
85 % Polyester/15 % Nylon
Zipper closure
21″ high
Four, multi-directional spinner wheels for very easy mobility, rolls upright so that there is no weight on your arm
Multiple outside and interior pockets help keep you well-organized
Interior panel provides a mesh pocket and wet pack pocket for all your packing requirements
Big, self-mending 10 coil zippers for a remarkable closure
Expands for additional packing capacity
Find out more about the Samsonite Dk3 and current best available pricing.
TravelPro Crew 9 22 Inch
The Crew series is one of the all-time favorites among business travelers and the Crew 9 is no exception. Flight crews and business travelers the world over utilize the Crew 9. What makes this one of the best travel bags is its durability. One of the features that excites us are the suit system that will keep your clothes wrinkle-free. Also included is an enhanced framing system that allows the bag to handle more weight and a powerscope handle that adjusts to the height of the person using it.
Features
100 % nylon
Imported
Mesh lining
Zipper closure
Plastic frame
Plastic lens
Non-polarized
Lens width: 7 inches
22″ high
Deluxe suiter system with padded foam bar always keeps clothing wrinkle-free during travel and can be conveniently removed when not being used
Spacious primary compartment expands 2 1/2-inch, maximizing room and packing flexibility
Polypropylene pp honeycomb framing system with EVA foam construction, and 2000d twist nylon fabric with duraguard coating provides exceptionally lightweight durability
22-inch h x 14-inch l x 9-inch w.
Limited lifetime warranty.
Find out more about the Travelpro Crew 9 and current best available pricing.
We hope that you've found our reviews of the best men's carry on luggage helpful. We hope you're able to find the best carry on bag for you. You could also look at  Chester Minima Carry-on for more options. We wish you happy travels and look forward to seeing you again.
Images sourced from Amazon.com