Top 4 Home Business Ideas For Women in 2015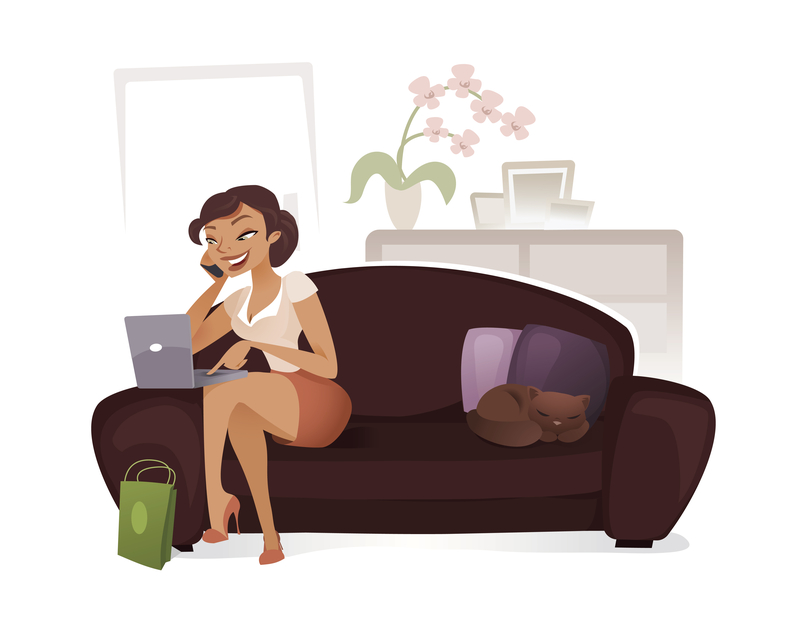 Whatever your reason for wanting to start a business, it all begins with a business idea.   The goal of this post is to give you some good business ideas, information about each and a starting point for further research and exploration.
What is the best business to start?
Here are our four suggestions for business ideas for women on the lookout for a new career of business challenge!
Start a Blog
Do you have an interest or hobby that you are passionate about?  If you do, then you can start your own blog writing posts that will be read by other people that share an interest in your hobby.  Your goal will be to grow the amount of visitors to your blog and then monetize the traffic by selling advertising, affiliate products or your own products.  The steps involved in starting your own business are:
Get a new computer: Here's a guide we put together recently!
Choose a domain name: Think about this carefully, this will become your brand.  You want something memorable and easy to spell.
Get the domain hosted: There are a huge number of hosts now, which means the cost of hosting has come down dramatically in the last few years.  Today you can get your blog hosted for less than $5 a month.
Install WordPress – a simple to use blogging platform: Along with hosting prices, the technical knowledge required to install Wordress is much less than was required previously.  It is now possible to install WordPress quickly using 1 click installation process such as the script installer Fantastico.
Get blogging: Create a regular schedule for posting and stick to it.
Promotion: Once you've started publishing content, you need to market your blog posts.  No one is going to read content that they don't know exists.  Contact bloggers in the same niche and let them know about your blog post.  You need to building relationships with these bloggers for long term mutual benefit.  You can do this by sharing their content, commenting on their posts or messaging them with suggestions or words of praise perhaps.
Monetize using advertising networks, affiliate products or create your own products.
Fulfillment by Amazon (FBA) Seller
Do you have your own product or an idea for one?  Fulfillment by Amazon (FBA) might be the suggestion for you.  Fulfillment by Amazon allows you to sell items on Amazon without the need for you to manage individual order fulfillment saving you time and the need to deal with returns and customer support.  You simply ship your stock to one of the amazon fulfillment centers and they simply ship to customers as and when needed.  There are two potential routes that could be taken for Fulfillment by Amazon:
You visit local stores and try to source products at discounted or sale prices.  Be sure to check prices carefully versus the potential price you could sell it online for.  There are various applications that can help you check online prices for these items quickly, by scanning the item barcode.  Calculate your costs to include not just the product price, but also the selling on amazon fees.
You create your own product.  You brainstorm some ideas, research the current market and then have your product manufactured.  This is a blog post in itself, but you need to take into consideration your competition and what would make your product better than existing solutions.
Freelancing
There are a number of freelancing sites which offer the chance of employment across various industries from simple data entry to creative writing jobs, from marketing to accounting.
The way freelancing sites work is that employers who would like work done will post a job advert stating what they would like doing and a time schedule.  Depending on the site, the employer prefer:
Freelancers are paid per hour for their work
Fixed rate.  Freelancers are paid a fixed price regardless of how long it takes
Usually freelancers will then offer their services and quote the price they are willing to the do the work for.  When applying for these jobs online, freelancers should:
Read the job advert instructions very carefully.  Employers will often ask freelancers to include some wording to ensure the advert has been read carefully
Take the time to customize the reply for each advert you reply to.  Employers can tell when you copy and paste.  They want people who will take the time to do things properly whether it is work or an advert reply!
Highlight any relevant experience you have which you can apply to the job being offered, it could be the same field or require similar skills.
Make use of your current skill set and find work to match it.  Even if you don't have experience you can start developing new skills and grow your competency (and pay rates) over time.
Home Party Businesses
This is a sector which is growing tremendously and covers a wide spectrum of industries and options:
Jewelry
Lingerie
Cosmetics
Clothes
Home decor
Food
You earn money in two ways.  Obviously the first way is making commission from any of the products you sell.  The second way is by recruiting people to work under you and then when they (or anyone under them that they recruit) make a sale, you also get a commission for that.
There a couple of different approaches you can take to selling.  You can invite friends, family and acquaintances over to your home and display the products whilst making sure to show they work and what the benefits are. Alternatively you can have a friend or relative host the party and you take your products to their place and demonstrate your products there.
The best home party business owners will combine the best of both worlds, making sure to host and contacting the people they know.  Then can then reach out to family and friends who can in turn invite their family, friends and colleagues over, thus allowing your reach to continuously grow.
Starting A Business
Each of the business ideas will suit different skill sets and appeal to different kinds of people.  Your job now is to review what your interests, skills and hobbies are and then assess whether they would match up with one of the the above businesses.  Starting a business is not easy, but with the right idea and hard work, you can make it work.
Feature image source: http://www.homebusinesstoday.com.au/