Interview with Olivier Baudoux, Founder & CEO for DrivAd, Inc.
[twocol_one]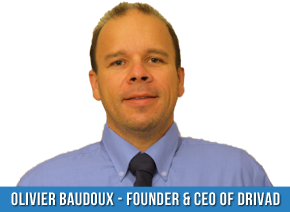 [/twocol_one] [twocol_one_last]Olivier Baudoux – Founder & CEO of DrivAd, CIO/SVP of Encore Capital Group (Nasdaq: ECPG), Serial Entrepreneur.[/twocol_one_last]
Hi Olivier, good to get a chance to pick your brain. I'd like to start off with your background.
When would you say you realized that you were meant to become an entrepreneur?
I actually don't believe you become an entrepreneur, I truly believe some people are born to be. Most people want to follow along, adhere to long-time principles, and accept (or even require) the status quo. A few people, however, question the "as-is", analyze the "how" and spend their time thinking about better possibilities. I just happen to be part of that group!
Every time I ask myself, "There's gotta be a better way", I remind myself that entrepreneurs craft the future.
What inspired the decision to move from Europe to the states?
The answer is mostly answered in the previous question. Having worked and lived in many countries at a young age (before my 20s) I quickly realized the inefficiencies and limitations inherent to Europe, and France, in particular. As an entrepreneur (just like so many explorers in the past), I was looking for a better way and chasing what back then I could barely comprehend… the American dream!
What's the biggest difference, in terms of entrepreneurship, between the U.S. and your hometown?
The most important difference for me is certainly the perception of others in regards to entrepreneurship. As an entrepreneur in France, the environment, mentalities and rules of the game are just not in your favor. As hard as it is for me to admit it, in France, success (especially professional and financial) often triggers negative reactions and a sense of unfairness.
Why would a doctor get paid more than an average position? Why would a multi-million-dollar company executive deserve great bonuses? My simple answers are guts and hard work! It's no coincidence that Steve Jobs and Bill Gates made their mark as the most successful and richest men in America.
What would you say was the biggest thing you learned from your time as Encore Capital Group's CIO? Did it affect your approach to your latest project, DrivAd?
I was extremely lucky to have surrounded myself for six years with amazing individuals, coaches who helped me appreciate that the journey is as, or more important than, the summit of the mountain.
Serving as a CIO/CTO at 32 years old and managing a very large and fast-growth global organization taught me a lot about leadership, diversity and mutual collaboration. More importantly, I believe I learned about the people. An organization is as strong as its cohesive synergy and as weak as its weakest link.
How did you come up with the basic concept behind DrivAd? How long did you spend building the idea or did it come to you in a flash?
As I was working with Covad Communication (the first national DSL provider), we used to offer free high-speed Internet connections to all of our employees (while everyone else was still using dial up).  Employees back then were super excited by such a perk! At the same time, Covad was quickly expanding, going IPO and having to spend millions of dollars on advertising.
That's when my vision for DrivAd started… What if an organization could leverage their own products and services (free DSL for Covad, free coffee for Starbucks, for example) and use them as a way to subsidize their largest expense (direct-to-consumer advertising). DrivAd was born with the premise of engaging thousands of individual consumers (customers, employees, volunteers, etc.) to promote their favorite companies in exchange for valuable rewards and the pride of representing the brands that they love. Our first product was targeted toward outdoor advertising (a $7 billion market), before we expanded into online and social media advertising (a $150 billion industry). Today, we offer programs using our growing network of brand ambassadors, aka DrivAdvocates™, both online and on the road, and we also have a sophisticated technology platform that allows us to help companies and organizations identify their most important brand advocates, whether through our own network or by tapping into their existing fan base, employees, customers, etc.
DrivAd is a refreshing, direct approach to marketing. It doesn't try to gamify itself, and we admit on the front page of our website that consumer participants are working to earn free products and services from a company, rather than competing against an arbitrary scoreboard. Is that a deliberate decision?
Well, yes and no! Our core DrivAd product (to provide companies with very cost-effective out-of-home advertising solutions) is entirely free for drivers, with no strings attached. Drivers can just sign up to be selected, drive as usual and enjoy free rewards! When a driver gets invited, they have full visibility over the offer, the advertiser and can decide at their sole discretion to accept or reject the opportunity.
More recently, though, we have launched our latest product called the "Virtual Driving" program (serving the broader digital advertising area) where consumers no longer have to operate a vehicle nor attach a DrivAd display on their rear windshields. Instead, participating DrivAdvocates still enjoy awesome rewards from their favorite companies for completing simple virtual missions, such as sharing photos on Facebook, checking-in at locations, or uploading videos. Everything they do for the brand counts toward their rewards, and in certain cases, with the Virtual Driving program, we bring in a little healthy dose of competition using scoreboards and having DrivAdvocates compete to get the most rewards and extra perks.
What has the user response been like?
We have seen about a 25 percent conversion rate on our website and 98 percent renewals from both consumers and advertisers after they have participated in a DrivAd campaign. Our drivers love it and our advertisers become addicted! DrivAd is a fantastic win-win for both consumers and advertisers.
Would you say that the average person is tired of banner ads?
I believe there are two camps, some are tired of banner ads and others simply ignore them. Either way this isn't a positive sign. It is definitely becoming more and more difficult for advertisers to see a positive return from Internet advertising. It is just too crowded and competitive. Banner ads, just like so many advertising media have become very expensive. Everyone is looking for the same billboard on a busy highway or bidding for the same keywords on Google, making it really difficult to achieve a positive ROI. With DrivAd, we are constantly generating new advertising impressions through the genuine influence and credibility of consumers, everyday people who use and trust the products or services of our participating advertisers. This approach allows us to drive down the price of advertising… It's simple economics.
What's the basic difference between a brand ambassador and someone who shrugs their shoulders when asked "Coke or Pepsi?"
A brand ambassador has passion, emotions and a strong affinity for the products and services they buy. The ambassador does not buy the product, but rather the experience and the core values that the brand stands for.
A brand ambassador rarely acts rationally. Instead, they are driven by strong beliefs and high energy. As an example, true ambassadors (think Apple or Nike fans) do not reflect negatively on high pricing. Rather, they gladly pay a premium price and see it as a validation of their personal beliefs and popularity of the brand they endorse.
More importantly, the brand ambassador is a great spokesperson, a moving billboard and the best sounding board to reach local neighborhoods and online communities.
Follow Adam on Twitter: @thebizguy