2
Interview with Yale College Young Entrepreneur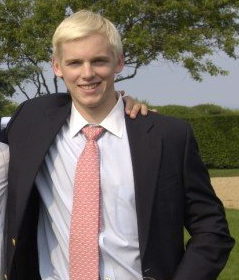 I recently had the opportunity to interview Yale College Entrepreneur Rich Littlehale. I was very impressed with their innovative company and their passion for assisting the environment and others through their entrepreneurial venture, You Renew!
Rich Littlehale is originally from Norwell, Massachusetts. He attends Yale University and majors in History and rowed on the varsity crew team. Before starting YouRenew.com, he founded Party For a Cause Foundation, which empowers and encourages college students to participate in or throw events for charity. Rich co-founded TwigTek in the spring of 2008 and has been working on it since. Besides entrepreneurship, Rich loves playing and watching sports and plays the guitar.
List the name of your company and website.
Company Name: TwigTek, LLC.
Website: www.YouRenew.com
Title: CEO
Industry: Electronics recycling
Type of company: Electronics buyback
Year founded: 2008
Location: New Haven, CT
Number of employees: 10 (growing)
1. What is the start-up story behind your business venture?
Both my co-founder, Bob Casey, and I wanted to do something "green." I personally had a bit of an obsession with clean tech and green business in general. I think it's the next great American industrial revolution (it better be anyway). We both saw "green" as a tremendous opportunity both for societal good and for new businesses. As college students, we didn't have the funding or expertise to start a solar or wind company. But we were looking for something in the green space.
It became apparent in about May of 2008 to both of us there was an opportunity in used electronics. We then came across a company recycled and resold books and thought we could do it with electronics. It's troubling to hear the number of electronic devices that end up in landfills every year. According to the EPA, recycling rates for cell phones are only about 10%. Once we learned about the chemicals in these devices such as: mercury, cadmium and lead, we were horrified about what people were throwing away. Another issue we had problems with was shipping these electronics overseas. The next big discovery, and the one that convinced us to go forward, was that, ironically, these electronics that people were throwing away were still valuable. I know it's cheesy, but we discovered a way to make money and do good for the environment.
We started the company, TwigTek, at the end of May 2008 and our concept was to partner with charitable organizations and recycle old cell phones.  Bob stayed and worked at the Yale Entrepreneurial Institute on TwigTek for the summer and put together some great research about the market. I stayed at YEI to help Bob for the month of June but then went off to work at Lehman Brothers in investment banking for the rest of the summer.
At the end of the summer, we needed to make a decision about the company. While we had compiled a lot of great data and research about the market and ideas on how to attack it, we had no real business plan and no revenue. So I decided to take the year off from school and try and give it a shot (I wouldn't advise this move to fellow collegians. Don't take time off unless you have traction.) It meant I had to give up my offer at Lehman (which turned into Barclays), but it being senior year, as a rower, I knew the company would never move forward if we didn't take a risk. We wouldn't have the time to work on it. Bob stayed in school for the fall semester, but worked essentially full-time (He's off school now too). We were extremely lucky to have the support of the Yale Entrepreneurial Institute and got an office in the incubator on campus.
We began the company working with and seeking charity partnerships. We were lucky to solidify partnerships with Special Olympics of Connecticut and United Way of Greater New Haven and developed local collection efforts through boxes at their events and through business reply mailbags that people could drop their phone in and send back in the mail for free. We launched two websites branded for these organizations in the hope to get people to recycle their old phones www.recycleforunitedway.org and www.cellphonesforspecialolympics.org.
But in early November there was a big paradigm shift in the company. I had spent the majority of the last two months trying to pitch charities: Sierra Club, American Cancer Society, and even went down to Washington DC for the day just to go pitch Save the Children Foundation. After various attempts to follow up, these organizations didn't. Most ignored my calls and emails. It was this, on top of a trip to meet with marketing firm who told us our idea had no merit that Bob and I became frustrated with the model we were pursuing. We decided to focus on just United Way and Special Olympics on the charity side, but knew we needed to find another way to make this business work.
Paying people to sell back or recycle their old electronics was the answer we came up with and along came YouRenew.com.

2. What is your definition of success and has your company achieved it?
Success for us is gaining enough traction that business runs itself. That means the YouRenew.com brand is established and when people think, "I want to sell my electronics," the first thing that pops in their mind is YouRenew.com. We're not there yet, but we're working on it!
3. To what do you attribute your company's recent achievements?
Hard-work. We worked extremely hard and diligently for months on YouRenew.com. 
4. What three pieces of advice would you give to aspiring entrepreneurs?
1. Find a co-founder who balances your talents.
2. Share your idea and seek feedback. Success is 5% the idea and 95% execution. People aren't going to steal your idea.
3. If you are doing a for-profit venture, make sure the ultimate goal is making money and then doing something cool. Make sure it is in that order because at the end of the day, businesses don't succeed and your ideas aren't going to be shared unless you make money.
5. What have been some of your failures, and what have you learned from them?
One of our biggest failures, and one that we still struggle with today, is lack of focus. When you're starting a business, simplicity is king. If you're trying to do 10 things at once, you're not doing one thing well, which is all that really matters.
6. What pointers would you give to fellow Entrepreneurial College students on juggling school and business?
Try to get into a good schedule. Carve out specific hours in the day that you'll work on school and specific hours of the day you'll do business. Doing two things at once doesn't work.
7. Describe/outline your typical day?
Every night at 6pm, the team has a 30-minute meeting (no longer) to outline what we've accomplished and what we need to do the next day. Based on what we decide our goals are for that day, we try to just attack one thing at a time, check it off and move on to the next thing. We get into the office by 9am and leave by 10pm.
8. Where did your organizations funding/capital come from and how did you go about getting it?
We raised a round of angel investment. Good family friends provided a few of the introductions to people who ended up investing. A few came introducing ourselves to investors at a pitch.
9. What stops you from throwing in the towel and giving up during those frustrating days of running your business?
We tried to take time to understand the risks associated with starting a business and just expect things to take 2-3x longer than initially planned. Having a co-founder(s) during tough times is very helpful. Usually when one of you is down, the other can help bring you back up. Lastly, if you believe at your core the idea will work, there is no frustration great enough to stop you.

10. Do you believe there is some sort of pattern or formula to becoming a successful entrepreneur?
I think to be a successful entrepreneur you need to be able to work-hard and stay focused for extended periods of time without many tangible results. Being naturally organized helps too, because being an entrepreneur is inherently disorganized and it helps to counteract that phenomenon. People who have an a keen understanding of the value of a dollar and how to make one helps also.
11. Who has influenced you most and been your greatest inspiration?
My Father. He's not an entrepreneur, but he's always pushed me to "go the extra mile" and take risks. I keep a copy of his business card taped to my laptop when I need the inspiration.

12. What book has inspired you the most?
"Made to Stick," by Chip and Dan Heath. It's about why some ideas survive and others die. This book shows how you can harness the power of an idea and make it stick with people. I've read it over 10 times.
13. How do you go about marketing your business? What has been your most successful form of marketing?
To be honest, we really haven't started a big marketing push yet. The website just launched. I'd say so far, though, our most successful tactic has ironically just reaching out and asking people for advice and thoughts on what we're doing. People generally respond well and usually talk about us to their friends.
14. In one word, characterize your life as an entrepreneur.
Driven.
15. Excluding yours, what company or business do you admire the most?
I admire Apple the most. It might be cliché, but I admire how after the company found itself in a rough patch for many years, it regrouped, and reignited its brand with some of the most innovate products ever released.
16. How do you achieve balance in your life?
I try to maintain a good schedule and set rules. For example, I try to work out every morning before go to work. It's also good to take a planned day off once in a while where you promise yourself you won't look at work or email.
17. Where do you see yourself and your business in 5 years? 10 years?
As I mentioned before, we're looking for a business that runs itself. People are aware of the YouRenew brand and count on it to sell back or recycle their electronics – just like people count on McDonald's for a hamburger.
18. If we could introduce you to anyone, who would it be and why? (you never know who we know!)
Two persons:
1. Al Gore: as a leader of the "green" movement, his advice and stamp of approval would be invaluable. He's also a person I respect tremendously.
2. A major media/print editor who would be interested in featuring YouRenew in story! We think we have a great story and message – we just want people to hear about it!