2
The Trust Lubricant: Building Relationships to Sustain Your Business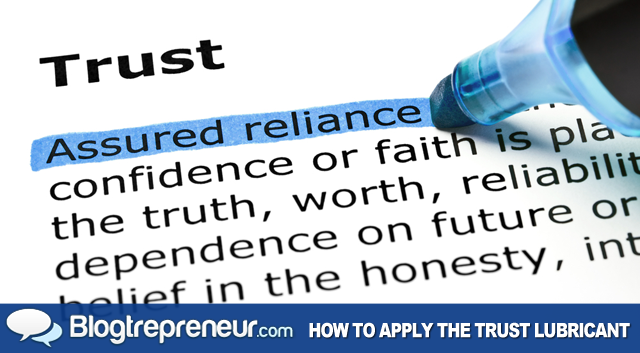 What makes a good business relationship? It is a quality product? Open lines of communication to your client? The ability to fulfill every single client request? It's probably a combination of these things, but the prerequisite to creating a strong, mutually beneficial relationship between you and your client is pure, unwavering trust.
It sounds simple: if you have trust, everything else should fall in to place. But trust in business is hard to earn, easy to lose, and has a funny way of creating a rift in your relationship when it's tested. So, how exactly do you build and maintain trust in a client relationship?
It's Not About You (At Least, Not Yet)
Before you take on new client business, there are three important questions you must sit down and answer with your team.
Are there compelling reasons I can present with conviction as to why I can serve this client as good as or better than anyone else?
Is there a two-way dialogue on how we both benefit from this relationship?
Do we have plans for improvement, a way to measure this, and a consistent, timely follow-up?
When you work with someone and depend on them for success, you have to trust that the other party has your best interest in mind. The answers you come up with to those three questions will set a path for the future of your relationship.
Serving the Client's Best Interests
When a client comes to you with a request and you know you're not the best person to fulfill that request, mutual trust comes in to play. Rather than sweeping up the contract, you must sometimes refer that client to a professional who can meet their needs. Why pass on business? Because you have your clients best interests in mind. Instead of building immediate capital, you continue to build long-term trust by honestly evaluating the situation and telling your client it's in their best interest to find someone more qualified to do the job.
Refer a specialist or help your client to your best ability, but don't pretend to know everything just to get that next contract. If your clients trust you have their best interests in mind, they won't hesitate to defer to your judgment when other issues arise. The number of contracts doesn't create long-lasting relationships; clients who know you want to see them succeed pave the way for a sustainable future.
You're Only as Reliable as Your Last Transaction
This isn't baseball. You can't get it right four out of ten tries and be considered a Hall-of-Famer. In the business of serving clients, you can't be perfect, but you must be reliable. Even simple sales transactions rest solely on trust. When a client orders something online and finally clicks the virtual checkout button, they have symbolically (and financially) put trust in a line full of real-life people handling their product. The client trusts that the company will pick and package the order correctly, that the parcel service will handle it with care, and the delivery driver will take necessary steps to leave the package in a safe place to be received.
At first, just clicking "buy" seems so removed from reality, but there are personal signatures and quality control every step of the way. If your client's trust is ever broken by any of the people who handle the product, chances are he or she will be hesitant to do business with you again. The quality of the product is insignificant if there's no faith that it will be delivered on time and intact. But if a client is one-for-one on ordering, then you can hang your virtual hat on that client returning as a customer again.
Work Outside the (Contract) Lines
When you end a meeting or hang up the phone, you owe it to your client to be thinking of ways to help their business when you're not directly engaged. For example, I go to a lot of trade shows, and I serve as a liaison to my clients while I'm there. I gather information and make introductions that could be helpful to them. That's not in the contract, but we owe it our clients to keep them abreast of things in our industry that affect them.
My clients need to know I will inform them on changes in regulations for the transportation of various items, fuel prices, mergers and acquisitions, startups, and bankruptcies of related logistics partners that can impact them both positively and negatively.
It's this unwritten side of the business that really adds grease to the already well-oiled machine that is our relationship. Don't expect to win client loyalty by doing the bare minimum. Be diligent and give your client the unexpected. This will create a mutually trusting relationship, and your client will see the intangibles that they might not find elsewhere.
At the end of the day, referrals and reputations are the most important things you can have in your business. Your brilliant idea won't get off the ground without the collective efforts of clients who are willing to support you as much as you promise to support them. Focus on these relationships, ask for mentoring, and be upfront with your clients.
Here's a genuinely powerful business tool: "Would you help me?" This reciprocating attitude of trust and respect will serve as the most important lubricant for your long-term relationship. Go forth, and begin building trusting relationships with your clients because at the end of the day, relationships are the key to creating a sustainable business.
Bob Klunk is the Director of Fulfillment Services at Distribution Management, Inc., a shipping and fulfillment company that focuses on creating your brand experience, not just shipping a box.