2
What Klout Really Means and the Future of Social Media Influence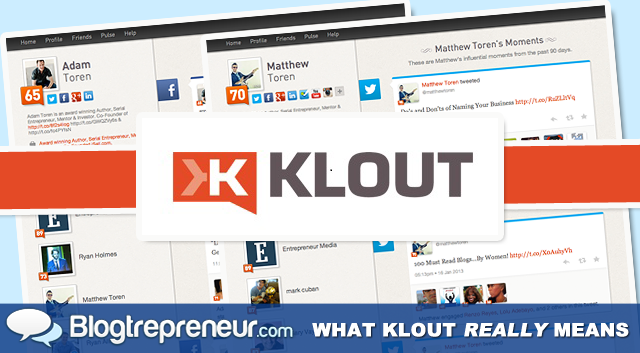 A surprising number of people have no idea what Klout is and what their score may be. Essentially, Klout is a program that measures your web presence and its influence on other people based on social media networks. Klout offers a 0-100 range, with 20 being the average score. The higher the number, the more influence you have. The real question is does your Klout score really matter?
Are Klout Scores Just an Ego Trip?
Many leading authorities, from editors to social media masters, claim that focusing on Klout scores is unnecessary at this point in time. Just as many people have improved their Klout rating and it hasn't affected their job (or search for a job) in any way whatsoever. In fact, some have even doubled their score yet it has barely even affected their social media traffic!
Having a higher Klout score than your friends or competition is definitely an ego-boost but doesn't exactly mean any more than that. The Klout skeptics certainly have some very valid points for their side of the argument. Why focus so much time and energy into increasing a number that will probably not affect you at all? Simply spending all your time on Facebook and sending Tweets certainly doesn't mean you are a more successful or influential person.
Klout and Social Media Influence
There is a growing group of people that strongly disagree that Klout scores are a passing phase. Nearly anyone who has a web presence for their brand understands the importance of having a strong social media influence. The more your brand is mentioned and shared, the more traffic you will receive. They believe that there is a strong correlation between a high Klout rating and the success of your social media endeavors.
Klout scores are determined through a variety of different means depending on the social media platform you are using. Some of these "triggers" include mentions, retweets, comments, number of friends or followers, and likes. When you really look into Klout scores you can see who is active with their audience and which people or brands can get a strong reaction from the content they share.
You can check out my score and Adam's here:
On top of pinpointing your status in the social media world, Klout also offers potential perks! Based on your score, topics and location, you may receive perks from Klout partners. These perks include everything from movie tickets to an all-expense paid, 2 day vacation in Seattle.
Klout and the Future
Undoubtedly, the power of social media is going to remain and grow as a very important topic among entrepreneurs. The debate is still raging whether Klout is a passing fad or may indeed become the way to measure your influence within the Internet world.
We believe that Klout scores can tell you a lot about your social media influence and aid in improving your social media marketing efforts.
Follow Matthew on Twitter: @matthewtoren