10
Why Now is The Best Time to Buy Domains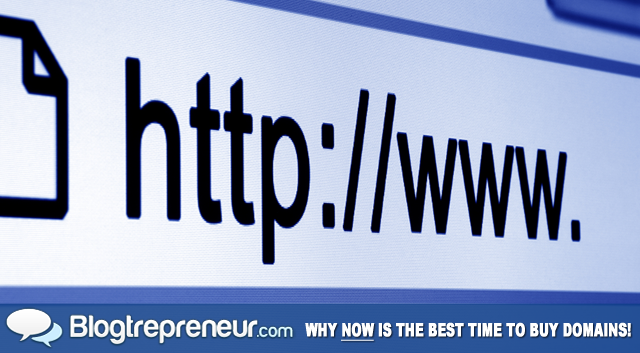 Domain names are the best investment you or your company can make right now. This may come as a surprise to some, but these pieces of online real estate are little gold nuggets that can be turned into storehouses of wealth. The timing is perfect, and the deals are out there for the taking. I suggest you get involved before it's too late.
How I Got Involved
In 2009, I met a man who changed my life forever. I worked mostly from a local Starbucks,
and while the rest of us entrepreneurs were feverishly working on our computers, this guy would drive up in a Bentley or Maserati dressed in sweatpants and a T-shirt. One day I finally asked him what he did for a living. He was buying and selling domain names, and he was making $500,000 to $1.5 million a year doing it. I was stunned, jaws-to-the-ground stunned, that this was even possible.
I thought all the domain names had been bought. He told me I was right, but a secondary market had been created. To make a long story short, I was hooked. I dove in and became a student. Today that has provided me with a multi-million dollar business that will only continue to grow exponentially. You could have the same if you get on board now.
Why Now?
There are a few major factors that have come together to create the perfect storm for investing in domain names.
Economy
We may be in a recession, but for entrepreneurs, a recession is not a problem. Historically, it's during down times in the economy that more millionaires are created. There are more successes and deals than ever before. You just have to have the skills, drive, and knowledge of the opportunities available.
Internet
As the economy struggles to rebound, the Internet will become the driving force behind it. In fact, this has already begun. Doing business online has made it easier to get customers, create revenue, and build a brand from scratch. The Internet is only going to continue to grow, and the domain name market will be right there with it. Domain names are assets that will be more valuable than gold, silver, or even oil as time goes on. If you are an entrepreneur looking to make money, your first million, or your next 10 million, investing in domain names and other Internet-based businesses should be your priority.
Buyer's Market
For people who have cash, it's a buyer's market. Amazing deals are on the table. Domain names are the perfect investment for the intuitional investor, businesses looking to preserve and market a brand, businesses looking to leverage and get more market share, and strategic alternative investors.
If You Have Little to No Experience
Get a mentor! This has been one of the biggest factors in my success. Find the people who have what you want. Study them, ask them to spend a few minutes with you each month to chat through your ideas and plans, ask questions, and duplicate their business model and improve on it. Don't be scared away just because you don't know what you're doing yet.
Business can be brutal, but if you align yourself with the right people during the right time it can be magical. Very few people understand this, and that is why many fail to have the desired success they seek.
A Couple of Tips
Work Hard
You will, in fact, have to work hard for success in this area. It takes hard to work to be successful at anything, but this is one area where your success will have a serious pay off.
When I began, I had nothing to lose and everything to gain. I was able to put in 16-hour days researching past domain transactions and networking with people in the industry. I was also able to take chances. The chances I took shaped my life and opened the door for opportunity.
If you want to succeed, you have to focus, set goals, take action, and spend time each day envisioning your end result. I am a huge believer that my daily positivity affirmations and practices helped me to reach my goals.
Watch Out For Scams
People are always looking to take your money. When you buy or sell a domain name, go through a secure intermediary like Paypal or escrow.com until you build relationships with people you trust.
Stay Generic
Buy domain names that have value and that someone would actually want. Don't just go buying up anything and everything that is available. For example, www.atlantadentists.com is usable for a future business, but no one would think of using www.atlantadentistsareawesome.com. I often have people come to me with domain names they think are amazing, but in reality they have zero value. Catchy and creative names don't necessarily lead to useful and profitable (for you) domain investments. There is a science and methodology required for success.
Just a few years ago, I was a young, driven entrepreneur who wanted to have massive success. I found an industry that yielded results to those who worked hard, loved to create things, and were willing to take calculated risks. Now I have a sustainable and successful business, have been able to help many young entrepreneurs, and I've created credibility through my success that will help me launch future endeavors.
If you haven't invested money in domain names, do it before you can't afford it, or even more importantly, before your competition does it first. Not yet convinced of the power behind domain real estate? Check out this list of the top public industry domain name sales from 2012:
• PrivateJet.com $30,180,000
• Investing.com $2,450,000
• PersonalLoans.com $1,000,000
• Jackpot.com $500,000
• GiftBasket.com $350,000
Aaron Pitman is founder and president of API Domain Investments, a domain name development firm. Aaron is an angel investor and an entrepreneurial thought leader. Aaron speaks professionally on direct sales, MLM, positioning your company for the Internet, leading with a positive mindset, making money online, and how to turn a $10 domain into a 7-figure empire. A 24 year-old self-made millionaire, Aaron is a positivity nut on a mission to inspire others to pursue their entrepreneurial dreams. He welcomes anyone to reach out to him through Twitter @aaronpitman or you can visit him directly at aaronpitman.com.