11
Young Entrepreneur, Internet Marketer, Adventurer and Blogger, Michael Dunlop!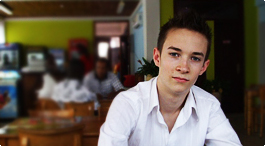 At just 20 years old, Michael earns a full time income from the internet on barely half time hours. Michael Dunlop is the founder of IncomeDiary.com, Retireat21.com and Webdesigndev.com
Adam: You launched your first website at 16 – what prompted you to do this, where did the idea come from?
Michael: I first started looking at creating websites just before my 15th birthday, we have a program in the UK called the Young Enterprise which lets young people at school set up a business for a year and you compete against schools around the country. There were 14 people in our business and I was nominated as Managing Director, but when our IT manager brought me a Geocitys website after 5 months of development I thought I would take it into my own hands. I quickly learnt how to use Dreamweaver and we won first prize for the best website, as well as best finances, best sales, best marketing and second best company, we lost by 1 mark because we were the only people not to submit a business plan. After the Young Enterprise I decided to buy any old stock we had and went online trying to sell it myself.
Adam: What did your family think of your decision to leave college at such a young age and become an Entrepreneur?
Michael: I only went to college ( high school for you Americans ) because my parents wanted me to give it a try. I never did very well at school, only passing 4 out of a dozen exams so I struggled to go to college. I had a lot of highs and lows with making money online, sometimes I wasn't making much, sometimes I was doing very well. My parents wanted me to at least give it a go so I have something to fall back on.
Adam: You have met several famous internet entrepreneurs – who has been a real inspiration to you?
Michael: I enjoyed meeting Bob Parson as I really liked the business plan behind GoDaddy and could apply what he did to my own business. Bob has had a lot of highs and a lot of lows and I think we can all learn from them, definitely a man worth checking out. I also highly respect Yanik Silver and Tim Schmidt.
Adam: You have a very slick looking site www.IncomeDiary.com, do you have a lot of design input into your blogs & site designs?
Michael: When ever I get anything designed I work very closely with my designers, I do worry if sometimes the designers get fed up with me but perfection is important to me. Always get the best designers you can, don't settle for second best and make sure you are clear with every design feature.
Adam: What 4 pieces of advice would you give to aspiring young entrepreneurs?
Michael: Just do it, so many people just don't start so first thing you need to do is take action.
Move on quickly, you will have plenty of people put you down and things will go wrong, just move on and don't worry about it because it will affect your business.
Don't get comfortable, make sure you challenge yourself and your business every day.
Don't spend money you don't have, so many people will rush out and spend their earnings, save it for a rainy day, invest it into your business and make sure you pay your tax!
Adam: Describe/outline your typical day?

Michael: I do have to admit that I take the day very easy, I will wake up around 10am and check over my emails and my forums. Will do between 1 and 4 hours a day of work, mainly emails, working with my team to make sure they are doing their jobs and interview people for my sites.
As I write this interview, I am in Cyprus enjoying a 2 week break in very hot weather, and some days I don't even go online, yet I have made more than most people working full time, just from my passive income online.
Adam: In one word, characterize your life as an entrepreneur.
Michael: Roller-coaster
Adam: What do you know now, that you wish someone had told you when you were just starting out?
Michael: I think one of the most important things for me was to learn that what I think the website should be like, isn't always what my readers will want it to be like. You've got to always be testing things and asking your readers what they want. See how different parts of your website are performing, which pages and posts everyone likes the most and be working on adding more value to your site with that in mind.
Also make sure your business is your passion otherwise you will struggle to provide value and make it a success.
Adam: Do you have a business plan or do you go with the flow?
Michael: A lot of my business has came straight from the top of my head as I work with programmers and designers. I have never written a business plan, it's all in my head.
Adam: Who has influenced you most and been your greatest inspiration?
Michael: I work quite closely with my dad on my projects so he does influence my business a lot. Apart from that I like how Yaro Starak and Bob Parsons do business so a mixture between them to has inspired a lot of my work.
Adam: Where do you see yourself and your business in 5 years from now?
Michael: I plan to have sold my network of websites for 7 figures and to have started on my own extreme clothing company, FIKED.
Adam Toren