83
101 Resources for Managing Your Money Online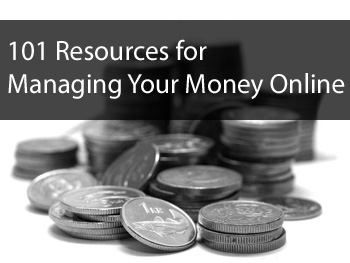 With a hard-hitting credit crunch beginning to take its toll on the masses, and rising fuel and food costs already causing distress, more and more people are turning to the web in order to cut costs and to make use of the valuable financial tools that exist online. We hope this list comes in handy, and let us know if you feel there are anymore that deserve a place below!
Budgeting & Money Management
There's an always increasing number of tools and websites devoted to helping you manage your money. Each of these will be unique, but many have similar functions for budgeting and tracking expenses, and some will integrate with your bank accounts. The list includes both free and paid tools:
1. Quicken Online – Manage your personal finances and online banking accounts.
2. Mint – Free personal finance software to assist you.
3. Yodlee – The most comprehensive online banking solution on the market.
4. Expensr – A solid solution for a young adult's simple finances.
5. Wesabe – Save Money, Spend Wisely and Reach Your Goals.
6. Walletproof – Search for money saving deals recommended by other Walletproof users.
7. SpendView – Analyze your spending in a simple, automated and efficient web based personal finance tool.
8. billQ – An easy way to keep track of your bills.
9. Buxfer – Free online personal finance software for budgeting and expense management.
10. Pear Budget – Start an easy budget for free.
11. Geezeo – Free online personal finance managment service.
12. Mvelopes – Lets you create a household or personal budget.
13. iOWEYOU – Expenses sharing calculator.
14. Billster – Helps people organise their personal and shared expenses.
15. BudgetTracker – An online finance manager.
16. Budget Pulse – An interactive, web-based budgeting utility.
17. Dimewise – Financial management you'll actually use.
18. Spicy Digits – Managing your recurring expenses is a breeze.
Online Savings Accounts
Online savings accounts offer much higher interest rates than you can get from traditional bank savings accounts, and they can be pretty convenient too. Of course, these banks will not be available to all parts of the world. The list is separated by the US and UK.

US:
1. ING Direct – High interest savings account from ING Direct.
2. HSBC – Provides a wide range of financial services to consumers and businesses.
3. Capital One – Get information on Capital One credit cards, auto loans, home loans and mortgages, savings.
4. FNBO Direct – Offers high interest saving accounts with the convenience of banking on the web.
5. E*Trade Bank – Banking and lending products and services supported by high yields.
6. Savings Square – It takes money to make money, but it only takes 10-15 minutes to open a new Square Savings Account.
7. GMAC Bank – High Interest Rates for CDs and Money Market Accounts.
8. Countrywide Bank – Institution focused on keeping costs down in order to provide higher interest rates to depositors.
9. EmigrantDirect – High rate, no fee, no minimum savings accounts and certificates of deposit.
10. CitiBank – Get rewards for your everyday banking.
11. Provident Direct – Provident-direct has great online savings rates.

UK:
1. Barclays – Find personal banking services with Barclays personal banking.
2. Cahoot – Access to your accounts 24 hours a day or use our mobile banking and automated telephone services.
3. Egg – UK-based Internet bank gives customers online access to their accounts.
4. ICICI Bank – ICICI Bank provides personal banking, NRI banking and corporate banking.
5. ING Direct – Offering one of the highest savings rates with no fees and no minimums.
6. HSBC – For all your personal and business banking needs.
7. CitiBank – Provides a range of personal banking services, credit cards, insurance, and investments.
Invoicing Tools
For those of us who bill clients, online invoicing tools are a big time-saver, and they can help you to stay organized by knowing what invoices have been paid. Many of the options listed here include both a free and a paid version, or a free trial period. Some of the items on this list strictly handle invoices, and others provide additional money management functions:
1. FreshBooks – Online invoicing and time tracking service.
2. Billing Manager – Free online invoicing software.
3. Invoice Place – Tax Invoices, quotes and receipts – fast and easy.
4. Pay Simple – ACH, eCheck, and Merchant Account Processing.
5. Less Accounting – Small business accounting software.
6. Blinksale – The easiest way to send invoices online.
7. Invotrak – Keep track of your invoices and time sheets quickly and easily with invotrak.
8. Invoices Made Easy – Create, manage, customize, print, and email your invoices completely free.
9. Bill My Clients – Easy way to create and send invoices and bills to your clients.
10. Billing Orchard – Online electronic billing software application.
11. WORKetc – Includes CRM, time tracking, documents and billing.
12. Simply Invoices – Easiest way to create invoices from the time you've logged in your Basecamp project.
13. SimplyBill – User friendly online invoice management tool.
14. Time:59 – Web-based client billing and online invoicing software.
15. Invoice Creator for Excel – Create invoices with Professional Reports.
16. Free Invoice Templates for Excel – Create invoices with Professional Reports.
17. Bill4Time – Web based time tracking and time billing software.
18. Cashboard – Estimate, Invoice, and Time Tracking Software for your business.
19. Invoice2Go – Software for creating invoices, purchase orders, quotes and all types of business documents.
Online Payment Processing
If you're selling products online or providing freelance services, these tools can make it easier and convenient for you to get paid. Of course, they can also be convenient if you're doing the paying:
1. PayPal – World renowned.
2. Google Checkout – Google's way to send and receive money.
3. Neteller – Online payment solutions.
4. iKobo – Pick up your money at over 1000000 Visa ATMs.
5. Moneybookers – Cheaper way to send and receive money worldwide.
6. Payoneer – Payoneer uses MasterCard prepaid cards to enable payouts from websites to individuals worldwide.
7. Citibank – Simple, Secure and Convenient way to pay.
Websites and Blogs
Want to learn more about managing your money? There are a number of excellent websites and blogs that you can follow to enhance your financial knowledge:
1. Yahoo! Finance – Free stock quotes, up to date news, portfolio management resources, international market data.
2. MSN Money – Comprehensive source for your money and personal finance needs.
3. CNN Money – Business news and financial market coverage updated throughout the day.
4. The Wall Street Journal – International and national news with a business and financial perspective.
5. Google Finance – Broad range of information about stocks, mutual funds, public and private companies.
6. BankRate – Online publication that provides consumers with financial data, research and editorial information.
7. GStock – GStock is a supercomputer for daily hot stock picks and best stock pick signals with a high degree of certainty.
8. Get Rich Slowly – Weblog covers frugality, saving and investing, and other aspects of money management.
9. Wise Bread – Personal finance and frugal living forums.
10. The Motley Fool – Provides premium investing advice and market-beating stock research.
11. The Simple Dollar – A personal finance blog focusing on ordinary people dealing with unprecedented levels of debt.
12. Blogging Stocks – Blog about the stock market.
13. My Money Blog – Chronicles author's journey and his goal of becoming a millionaire.
Articles
The articles below are excellent starting points for learning more about finances:
1. Money 101 from CNN Money – A step by step guide to gaining control of your financial life.
2. Five Basics for Building a Solid Financial Future from the New York Times.
3. Top Five Risks to Your Retirement from AOL Money.
4. Mobile Money: Five Tips for Managing Your Finances on the Go from FiveCentNickel.
5. Little Income, Big Debts: Managing Your Money in Your College Years from the Simple Dollar.
6. 8 Steps to Managing Your Money from StartNation – A business owner's guide.
Stock Trading
Online trading can provide cheaper transactions than traditional trading. Here are some of the leading options:
1. Scottrade – Online discount brokerage firm.
2. E*Trade – Offers online trading & investing.
3. TD Ameritrade – Online trading services: Broker services.
4. ING Sharebuilder – Buy stocks online.
5. UpDown
6. FirstTrade – Online discount brokerage that offers investments such as stocks, options, mutual funds, bonds…
7. Zecco – Commission free stock trading.
8. SogoTrade – Online stock broker SogoTrade offers the best in discount brokerage investing.
9. Online Stock Trading Reviews – Information about trading stocks online.
Calculators and Tools
If you want to see how much a mortgage will cost you or how much you need to save for retirement, online calculators are a great resource. This is just a sampling of what you can find online, but these are some of the most useful ones:
1. Household Budget Worksheet
2. Tax Withholding Calculator (US)
3. Retirement Savings Calculator
4. Mortagage Calculator: Fixed vs. Adjustable Rate Mortgages
5. 401(K) Savings Calculator
6. Will You Save by Refinancing Your Mortgage?
7. Mortgage Payment Calculator
8. Calculate Your Estate Tax Liability
9. The True Cost of Paying the Minimum on Your Credit Card
10. Universal Currency Converter
11. Currency Converter from Yahoo Finance
12. Exchange Rates
Image by Daniel Starrason
If you liked this post, then you're gonna love:
101 Useful Resources for Online Entrepreneurs
101 Essential Blogging Resources