2
4 Super Smart Entrepreneurs Who Are Dominating their Market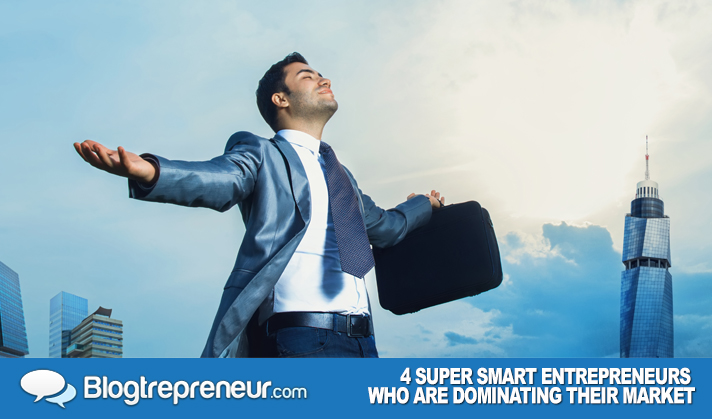 New ideas, new methods, and most importantly, new inspiration are what feeds an entrepreneurial mind. The brain of an entrepreneur doesn't come with an off switch, and the body doesn't have an alarm clock. Entrepreneurs are working inside their heads 24/7, and even at that, there aren't enough hours in the day. They never take off for a holiday, and often, the most mind-blowing breakthrough comes during the most unexpected time.
Here are four smart entrepreneurs who are dominating their market. What do they all share in common? They're all equally leveraging their high-profile entrepreneurship for the greater good, for investing in start-ups and for thinking big. After all, not being afraid to take risks and setting your goals high just come with the territory.
Rick Marini, @rmarini: BranchOut
Rick Marini is better known as the founder and CEO of BranchOut, the largest professional network on Facebook. With over 30 million registered users, BranchOut is considered a pioneer in social media. The sky's the limit for this serial entrepreneur. He boasts a significant resume, having led many ventures well past the threshold of success. Marini's reputation has awarded him the opportunity to pitch the top angel investors in Silicon Valley in addition to Accel Partners, Redpoint Ventures, Mayfield Fund, and Norwest Venture Partners. Thus far, BranchOut has raised an impressive $49 million in funding.
Marini is no newbie when it comes to start-ups and, more specifically, social-media companies. Marini mentors inspiring entrepreneurs, telling them, "If you think you have an incredible, innovative idea, you should assume that five other entrepreneurs are already pursuing the same idea."
Prior to founding BranchOut, Marini was the Founder & CEO of SuperFan, a social entertainment site that allowed users to become a fan of the things they love in life, including music, celebrities, television, movies, sports, games, brands, books, places, and schools. This successful and profitable social-entertainment site produced social games for clients that included CBS, MTV, Universal Music, and Warner Music before it closed down in August 2010.
Prior to SuperFan, Marini made a name for himself when he co-founded Tickle.com, one of the largest social-media sites on the Internet. He held the positions of co-founder, CFO, and chief strategist of this profitable company that boasted close to $40 million in annual revenue and over 200 million registered users. Tickle won the Rising Star Webby Award as the fastest-growing site on the Web in 2002, positioning itself as a top-20 global Internet site. It was by no accident that Monster acquired Tickle in 2004 for an incredible $100 million.
College dropout doesn't make its way on Marini's academic record as it did on fellow tech cohorts Bill Gates and Mark Zuckerburg. He received a Bachelor of Science in business administration at the University of New Hampshire, graduating magna cum laude, and an MBA from Harvard University Graduate School of Business Administration in 1999.
In addition to running BranchOut, Marini's portfolio of investments is as diverse as he is. He serves on the board of advisors and invests in over a dozen companies such as DreamWorks, BlackJet, Aston Martin Racing Group, Wanelo, Dot & Bo, Scripted, Moonfrye, Wavii, Nuzzel, Stipple, Lumos Labs, TugboatYards, Radius Intelligence, Founder's Den, SmartRecruiters, SOMA Water, and Urbantag. He's no stranger to raising capital and running companies, "I love building companies, advising start-ups, and bettering the start-up ecosystem, Marini says. "This shit is hard, but there is nothing I'd rather do"
http://founderdating.com/am-i-an-entrepreneur/
Drew Houston, @drewhouston: Dropbox
Saving, downloading, and sharing files have never been easier now that Dropbox, founded in 2007, has hit the tech scene. Drew Houston was irritated by having to work among different computers, and it was this growing frustration that inspired him to create a service that would let people bring all their files anywhere without having to e-mail attachments.
Houston took a hiatus from college before returning to receive his bachelor's degree in electrical engineering and computer science from MIT in 2006. During this time, he formed Accolade, an online SAT prep start-up company and worked at various other start-ups as an engineer. In true entrepreneurial spirit, Houston invested in promising tech companies such as Verb, ZenPayroll, and Incident Technologies.
His success with Dropbox has definitely put him on the radar and has gained him notoriety in his field. Just recently, he was named to MIT Technology Review's TR35 list honoring the world's top innovators under 35 in 2012. He has also been seen on Fortune's "40 under 40" list. It's a good thing Houston didn't keep his college night job playing in a cover band.
Gary Vaynerchuk, @garyvee: Vayner Media
Welcome to the social world of renowned social-media expert Gary Vaynerchuk. Long before being an entrepreneur was "cool," Vaynerchuk was already swinging business deals and conducting his own enterprises—at the age of 8, no less. All things considered, why settle for selling a couple of pitchers of lemonade when you could be managing an entire lemonade-distribution operation in the town of Edison, NJ? Vaynerchuk had always set his sights high, following the footsteps of his father. He took his enthusiasm and passion for wine collecting and turned it into a $45 million dollar business called Winelibrary.com.
To keep feeding his entrepreneurial bug, both he and his brother launched VaynerMedia in 2009. Since launching the social media marketing company, Vaynerchuk has brought on big-name players such as Fortune 500 company giants GE, PepsiCo, and the NY Jets, just to name a few. In the social-media world, this humble family man has reached legendary status. Helping companies build their brand digitally has really taken off. Consider this: four years ago, Vaynerchuk's operation started out with six people (and, we're sure, plenty of wine) and has since grown to 250 highly social individuals across the country.
He enjoys speaking around the world and is anticipating his upcoming release of his book Jab, Jab, Jab, Right Hook. In addition to his glowing resume, he is also a New York Times Best Selling Author of The Thank You Economy and Crush It! Why Now Is the Time to Cash In on Your Passion. When it comes to being an investor, we think Gary Vaynerchuk has covered all the bases and hasn't left anyone out. Considered to be one of the most influential tech investors on Twitter according to CNN Money, he's also an advisor for HubSpot, vidIQ, and many other hot tech companies.
If you get the chance, be sure to catch the truly inspirational seminar shown in the image below:
Tim Ferris, @tferriss, Four-Hour Work Week
Tim Ferris is a multititled individual. He's an angel investor, a blogger, an entrepreneur, and an author. When you hear his name on the streets or in the classroom, it will most likely be in connection with his New York Times best-seller, The Four-Hour Work Week. His best-known work has also made Business Week's and The Wall Street Journal's best-seller lists. Since its publication in April of 2007, it has been translated into 35 different languages and has been a number-one seller for seven consecutive years since 2007. With over 1,350,000 copies sold, The Four Hour Work Week has practically turned Ferris into a household name. Gaining world recognition is just one of the many facets of Ferris's entrepreneurial career.
Tim Ferris has spoken about high-tech entrepreneurship as a guest speaker at Stanford University. He's also an angel investor and an advisor to Facebook, Twitter, StumbleUpon, Evernote, and Uber, among other companies.
In 2001, Ferris founded BrainQUICKEN, an online nutritional-supplements company. After nine years, he sold it to a London-based private equity firm.
Check out Tim Ferris's The New York Times and The Wall Street Journal best-sellers.
Entrepreneurs think differently from the way most people do, and thank goodness. For without these diehard, relentless global dreamers, where would society be today? We wouldn't be reading this blog on a tablet or mobile device, and we wouldn't be able to share information with our friends and connect with other businesses in the ways in which we do now. The greatest entrepreneurs in our society revolutionize business, take risks, and follow their dreams.
These four self-made men brought their inspirations to the table and have delivered time and time again. They are making an impact and are changing our world one innovation at a time.