2
Interview with Joe Griffin, Co-founder and CEO of iAcquire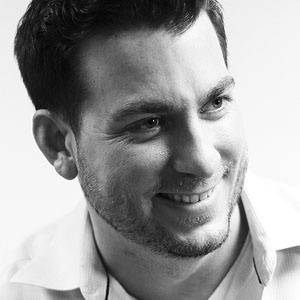 Meet Joe Griffin. An innovator in digital marketing for the past 15+ years.
Joe began his entrepreneurial journey at 17, when he Co-founded SubmitAWebsite.com, a search firm that was later sold to Web.com for a pretty penny. Subsequently, Joe has held executive positions at iCrossing, and was a co-founder and President of Web.com Search Agency.
In 2008, he joined forces with fellow search marketing leader Jay Swansson, to co-found iAcquire, what is now a leader in digital marketing services and strategy for SEO, reputation management, content marketing, digital public relations and social media marketing. As Co-founder and CEO at iAcquire, he has led the agency's 150+ mid-sized to Fortune 500 clients towards a higher share of voice on the Internet.
Step inside the mind of Joe Griffin as we explore his storied past and present in Internet entrepreneurism:
Tell us about how iAcquire got started and what made you get into the digital marketing arena:
iAcquire was formed by Jay Swansson and I. We had both been in the search engine optimization business for many years – about 25 years between the two of us. Our tenure spans across small and large agencies, and we had also started other companies in the past.
With iAcquire, we saw a sizable rift in search and knew we could capitalize. Many of the smaller agencies had recently been acquired and that created a talent shake up, and also slowed a lot of the serious competitors down. We started in a 500 square-foot office about four years ago and today we occupy 15,000 square feet between our offices in Arizona and New York. We are clocking in at 100 employees and we are transforming into a full-service digital marketing agency.
Today, the bulk of our revenue comes from SEO, social media marketing, and content marketing. We differentiate ourselves because we are pretty big considering we still work in a pretty small niche, and because not only do we design intelligent digital strategy, but then we actually implement everything for our clients.
What did you dream of becoming when you were a kid?
When I was five years old, my dad would make me answer this question in public, "Son, what do you want to be when you grow up?" To which I replied, "I want to be a nuclear physicist." In truth, I didn't know what I wanted to be, but I knew I wanted to be someone that had an impact in the world. I still have a very long way to go.
Tell me about your first entrepreneurial experience.
I started my lawn care business when I was 11. I managed to secure about five accounts, which collectively paid about $100 a month (and lasted a solid 90 days each, which was a really long time to me at that time). The biggest challenge was just getting to the location. The demand was there – and so was the cheap labor (me).
If you could tell someone just one thing about how to be a success in the world of entrepreneurship, what would it be?
It's hard to single out any particular trait, but I would say that you need a very hard head and thick skin. If you aren't ready to be told "no" constantly, and if you aren't ready to go all in, you might just want to stick to a 9 to 5. If you have the ambition and hard head, then it comes down to picking a niche that has a demand. Trying to create a demand is a very hard thing to do, and generally not advisable unless you have a lot of money…and even then it's risky.
What inspires you? Do you do anything on a consistent basis to stay inspired?
My inspiration comes from constant growth and challenge. I also wear a lot of hats – probably too many – but, staying engaged in all aspects of the business is very enjoyable for me. I need constant change, so it's a good thing I'm in the search business.
iAcquire is growing rapidly, and we've been able to recruit some inspiring and high-level talent. Being able to learn from your peers keeps me inspired, and seeing what these people do for our clients impresses me everyday.
Looking back, what's one thing you wish you understood about entrepreneurship before you ever got started?
Well, I actually put together a list of 99 lessons I've learned as an Internet entrepreneur. I find myself coming back to this article often because it really encapsulates those hard lessons.
If I may add one thing here though, it is important to be very careful about how you invest your money and whom you invest your money with. Never forget the value of your money – even $1,000 is a tremendous amount of money. And, most importantly, no one cares about your money like you do, so always keep that in mind. People rarely have your best interests at heart when it comes to economic gain.
What do you consider to be your greatest achievement?
Professionally, iAcquire is my greatest achievement to date hands down. On a personal level, I have two awesome children: one of who is 12 years old and another who is one year old. The way you raise your children says a lot about a person. I am very proud of both my kids, and my daughter in particular, given that she is older. She has become a fine individual, and that makes me feel good about the job done.
What two pieces of advice would you give to college students who want to become entrepreneurs?
Find the best company locally that does what you want to do and go land an intern. Don't take "no" for answer. Your late teens and early 20s are your most formidable professional years. You can get WAY ahead real early in your career if you get that early professional experience. Also, when you get in the real world stay humble, but don't be too humble.
Devour information and be aggressive. Everyone likes aggressive, smart, young people.
How important is it to find the right team as a startup digital marketing organization? What do you look for in employees?
Fortunately, Jay Swansson is a real leader on the recruiting side. His entire family coaches sports and he was an athlete for much of his life. I've learned a thing or two from him, but for me, I want to find someone that is ready to learn and invest him/herself into the business. When your employees take a deep investment into your business you get the most value from them. In turn, it becomes much easier for you to return that investment, by means of compensation, but perhaps more importantly, professional development.
Entrepreneurship comes with a lot of risk. How do you personally manage that risk?
Managing risk is one of the core tenants for a successful entrepreneur. That said, the entrepreneurial experience requires risk. It requires a level of risk that most would be uncomfortable with. I'm only 31 so I can't say that I have a lifetime of experience, but I got started quite early, and in my experience I have failed a good three to four times (significant failures). Not every business will succeed. You have to be prepared to go all in, fail, work really hard, and then try again.
In the early stages you just have to take the risk. But like I said above, do not give your money away – do what you can yourself as long as you can, and then if you do hire third parties, spend a lot of time finding the best people. I have seen too many people spend $50,000 or $500,000 on a start-up, spend that money poorly and end up with little to show for it. I've made that mistake before.
How is your success measured?
Success is not measured by the size of your bank account. Of course, I want to have a big bank account like every entrepreneur, and it is absolutely a major driver for me. The bigger driver though is the amount of stability can I design for my family, and how quickly can I do that. Stability is a tricky word with a lot of meaning. My perspective is that at some point down the road (like eight to 10 years) I can take a big professional backseat, and focus my efforts on something more altruistic, but something still rewarding and exciting. I'm interested in doing something that brings more tangible value to the world's real problems. In the meantime, I'm going to be 125% dedicated to building iAcquire into the biggest and baddest digital marketing agency on the planet.
What's next for iAcquire?
Well, we're aiming to re-launch our website, http://www.iAcquire.com on March 31. The new site does a much better job explaining what we do, and encapsulates most of the new offerings and case studies we've added over the past six to 12 months.
As we proceed through the year we will look to add a formal paid search division. Whether we acquire an existing smaller company or build it from scratch is still up in the air. Right now we're of the mind to build from scratch as we've done it before, and paid search is much more science than art.
We will also add more resources to our social media team. Our content development group will continue to expand, and we'll work to ensure that our writers and those in our professional network continue to improve their Google AuthorRank.
Lastly, we will invest more heavily into our creative department. We talk a lot about remarkable content, and we want to put our money where our mouth is. Developing remarkable content requires strategic planning, tight scripting, storyboarding, creative, and QA – it's a process to turn out something remarkable, but it pays dividends once it's done.