4
Why Is LinkedIn VERY Important For Success In Your Biz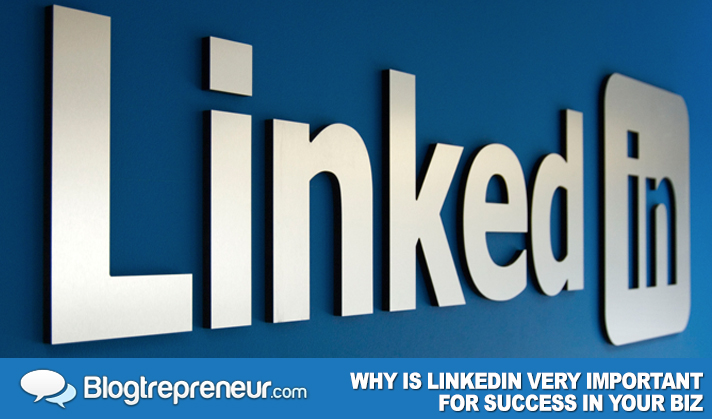 Ever since social media hit the scene, businesses have been able to grow in very different ways. This goes for small businesses as well as large ones. Small businesses can forgo expensive advertising and trying to market their brand or products for hour after exhausting hour at trade shows. — They can now accomplish the same goals while broadening their target audience with just one click. The benefits far outweigh the time and effort, and even local businesses are coming into the digital age.
Businesses that once rejected social networking can no longer ignore the obvious benefits of it and are eating a little crow and becoming social. Facebook and Twitter create valuable exposure, but LinkedIn has been a quiet giant that not all businesses have embraced. Those who have included it in their marketing campaign have found it to be one of the most powerful tools driving business.
Launched in May 2003, LinkedIn has been around even before Mark Zuckerberg founded Facebook in 2004. LinkedIn was created primarily as a professional networking tool, and it, too, has evolved over the last 10 years. In its early days, those individuals who were savvy enough to figure out how to use it definitely saw its potential to grow their network in conjunction with their business.
As of June 2013, LinkedIn reports more than 259 million acquired users in more than 200 countries and territories. It could potentially be the third-largest networking site on the Internet. What does that mean to success in your business? One simple fact: If your business isn't "LinkedIn," it needs to be!
Let me put one rumor to rest: LinkedIn is not just for recruitment purposes or finding a job. If your business provides products or services, then you can't afford to miss out on the valuable sales, marketing, and public-relations tools that LinkedIn provides for businesses. LinkedIn has a wide variety of implements aimed at promoting and engaging with a target audience and your network of professionals.
LinkedIn is free, easy to use, and very important to the success of your business. Here are the top reasons your business needs to get connected:
Cultivating relationships – Wildly successful businesses know one thing: Relationships are the most important ingredient to whipping up a prosperous business. LinkedIn fuses the influence of social media and the value of professional relationships. A robust tool, LinkedIn allows you not only to update your own professional profile but also to keep an eye on what others are doing. LinkedIn alleviates all the guesswork when it comes to keeping tabs on competitors and fellow colleagues so that your business can stay one step ahead. Creating and fostering relationships with suppliers and distributors has never been simpler, and it's easy to search for whatever or whomever your business needs.
Improved search rankings and online presence – Creating a LinkedIn profile can bump your business up to the first page of a search result without your having to buy into a search engine optimization (SEO) marketing package. Including your URL on your profile will create links back to your website and will pique curiosity among your connections and drive traffic to your site. LinkedIn profiles have so much new content and are significant enough for search engines such as Google and Bing to score them highly, thus increasing your business's exposure.
Reinforces your brand – A LinkedIn profile is a snapshot of your brand that allows you to put the information you want people to see in a highly specialized way. Prior to online social networking, successful businesses relied on referrals and testimonials, and that is, in a sense, exactly what LinkedIn does online by building your credibility and encouraging others to believe in what you're promoting. With the development of LinkedIn Groups, potential customers and partners are able to see what you're interested in and what you follow, and they'll hear your voice on relative topics. This is essentially valuable to managing your reputation and building your circle of influence.
Extended Networking Opportunities Long gone are the days of searching out networking opportunities related to your field all on your own. Now, LinkedIn does it for you. What's even better is that LinkedIn offers you a platform to connect all over the world, whereas in years past, it wasn't as simple. Based on your profile, LinkedIn can actually target related groups and interests for your business and make suggestions for you to join and connect with your peers to open up online conversations. Creating leads through online discussions can position you and your company as a business leader in your niche and grow your network.
Business professionals come together at a networking event suggested within LinkedIn.
Additionally, LinkedIn will offer links to information that is pertinent to your industry and provide you with much-needed support. For example, LinkedIn recommends content for business professionals in the following post:
Develop clout – Much like a testimonial page, partners, satisfied clients, and fellow colleagues can shower you with praise and recommend your business and expertise. If you're looking to build some clout in your industry, those in your network can endorse you for the skills you list in your profile. Maybe one of your connections has been searching for someone with a highly specialized skill, and you've got it! The endorsement feature is especially useful for business owners and executives equally as your business can be recommended throughout your field.
This is what you will see when looking at endorsements:
Visually attract new business – In September 2012, LinkedIn announced the redesign of its company pages, going after the same look as Facebook by allowing visually appealing images to grace the top of the profile page. This upgrade helps businesses market their brand's image in a new and robust way and lends itself to eye-catching branding opportunities.
 Nike's page is engaging and bold:
 Helps consumers to say YES – Consumers consider websites, blogs, searches, e-mail, and social media to direct their decisions when it comes to purchasing products or enlisting services. LinkedIn can direct individuals to your various online channels all from one single spot. If a potential customer connects with you on LinkedIn, he or she is more likely to check out your blogs, for instance, and start following you. That, in turn, builds more leads and promotes business.
Connect your virtual lives with the WordPress LinkedIn Application. With the WordPress App, you can sync your WordPress blog posts with your LinkedIn profile, keeping everyone you know in the know. Once added, you can filter your posts with a special LinkedIn tag and even display your personal WordPress Gravatar (global avatar). Updates are automatically sent to your network for instant notifications and gratification.
 Put a logo or a name to a face – Your brand's logo or your professional headshot says a lot about you. Don't pass up this opportunity to showcase your personality or business image.
If your business is already reaping the rewards of LinkedIn, take a moment to kick it up a notch and check out LinkedIn Premium. With the Premium package, you'll be able to utilize:
InMail – Send a message to any LinkedIn member without an introduction. If you don't get a response within seven days, your InMail credit is refunded.
More Search Results – You get more search results and access to additional profile information for people outside your network.
Profile Organizer – A workspace where you can save and keep track of important profiles. Organize profiles into folders, add notes and contact info, and see correspondence history.
Who's Viewed Your Profile – See the expanded list of the titles, regions, and companies of people who have viewed your profile. Names are hidden for privacy reasons.
Premium Badge – The Premium icon helps you stand out in the crowd and is featured prominently on your profile next to your name in search results.
OpenLink Network – Being a part of the OpenLink network allows anyone on LinkedIn to send you a message for free, even if they're outside your network.
LinkedIn is a very powerful tool and shouldn't be overlooked. It's one of the most formidable tools on line for B2B and is highly effective if done correctly and managed appropriately. You certainly want to invest the time in creating a detailed profile and take advantage of all the dynamic tools that are made available. If you feel that your business can succeed without LinkedIn, you're taking a big risk.