Your Complete Guide to Choosing the Right Printer For Your Business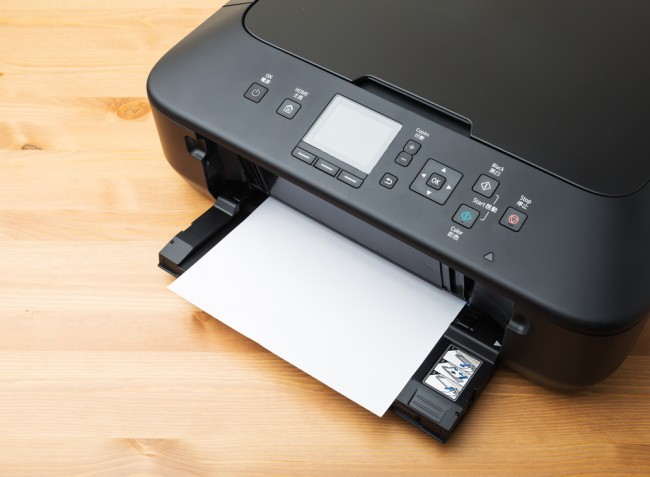 The search for the perfect printer can be a frustrating one if ill prepared.  With dozens of printers to choose from and newer, flashier models coming out every few months, the process can quickly become overwhelming. Luckily, we've compiled a list of tips to help you find a printer that's sure to be a perfect fit for your small business.
Analyze Your Company's Needs
Take a moment to consider the following questions:
How many print jobs will the device need to run each day? Don't just factor in printing. Most machines have the ability to fax, copy, scan and email documents too!
How many employees will be using the device each day?
Do you need the option to print both in color and black and white?
Is the printer easy to work with? Printers in an everyday office setting should be easy to setup, easy to use and it should be easy for employees to replace consumables
What size is right for me? Think about the space. Do I have room for a bulky laser jet or a compact inkjet printer?
Once you've gotten a general idea about your company's needs, we can jump into printer buying specifics.  Let's first break down the basics of printer terminology so you can go into your shopping experience feeling confident and come back to the office with a printer that best suits your workplace. Brother has a similar but short printer buying guide you can check out but, for the sake of making sure our readers are well-informed to make the best printer choice, we'll go the more elaborate route.
Black and White vs. Color
The first decision an office needs to make is whether to purchase a printer that prints in black and white or in color.  For a company that rarely prints in color, a black and white or monochrome laser printer is definitely the best option.  Laser printers can easily handle a large print job and most toner cartridges last considerably longer than an inkjet cartridge.
For a business that prints a lot of color graphs or pamphlets, you might consider a color laser printer. They won't produce the same vivid photos that a color inkjet printer will, but they are perfect for offices that like to incorporate a bit of color into their monthly reports.
Inkjet printers, on the other hand, are great for the casual printer or photographer. Every inkjet printer on the market today has the ability to print in color. But keep in mind that ink cartridge prices can quickly break the bank if you suddenly need to complete a large print job.
Multifunction vs. Single Function
Multifunction or "all-in-one" machines have really become the norm nowadays for small businesses.  Many are budget-friendly and they are appreciated for their ability to do just what they advertise, multitask.  Multifunction printers are equipped with printing, copying, scanning and faxing capabilities. Most also feature a convenient memory card and USB slot. They make a lot of sense for small offices and it's nice to have a "one stop shop" machine that covers all your bases.
Single-function machines have one goal in mind, to print.  Sometimes that's all a business needs and without all the bells and whistles of a multi-function machine, there is less to maintain.  It may also be beneficial to have multiple machines available in your workplace.  Rather than having one employee wait to use the scanner while another is printing, consider investing in both a single function machine and a multifunction printer.  Increase office productivity while decreasing frustration!
Consider the Duty-Cycle
A printer's "duty cycle" is the number of pages a printer can print within a given month without any issues.  It is relative to each machine and it of course is not an exact number.  Businesses can use this number as a way to keep track of performance and to gage when a particular part might go bad.  Replaceable parts like a drum or fuser assembly will wear out over time and can be expensive to maintain.
Keeping tabs on wear and tear will keep your printer running smoothly for a longer period of time and ensure you are getting the most from the machine. Consumers that routinely print at a high volume should pay attention to their printer's monthly print volume, or the number of pages a user requires from their printer.
If you print 5,000 copies a month it wouldn't make sense to invest in a printer that only handles a 1,000.  Read up on the statistics of each machine you are considering and buy one that makes sense for your needs. If you only print a few times a day your monthly print volume shouldn't be a concern but you should still pay attention to your cartridge's page yield.
Consider the Cost of Ink
The price and longevity of a cartridge varies significantly across machines.  In most cases the cheaper the printer, the more expensive the ink.  When considering a new printer, factor in the page yield.  The page yield is the average number of prints a given cartridge will give you as determined by the manufacturer.  Manufacturers include this number on the box.
Laser toner cartridges are generally more expensive but have a much higher page yield.  Inkjet cartridges hold less but are appreciated for their print versatility.  Compatible and remanufactured cartridges are a great way to save and are available for most machines.  They are considerably cheaper and if bought from a reputable source, and work just as well as the genuine brand!
Factor in Print Speed
If you print at a high volume and have multiple employees using the same machine, then printer speed is definitely an important factor to consider.  Printer companies call a printer's speed PPM, or pages per minute, and the quality of a print can vary depending on how quickly you are churning out pages.  For example, printing in draft mode may be faster but the end result isn't going to look as good compared to a print in optimal mode.  Laser printers tend to be much faster than an inkjet and are the preferred machine for a business that has a need for speed.
Local Connection vs. Network Connection
A locally connected printer is hooked up to one computer and will only print through that particular printer.  It is usually connected via a USB cable.  This is perfect for an employee that needs regular access to a printer. A printer with a network connection is shared with the entire office.  It is able to service multiple users at a time and most run off of a wireless connection so printing across platforms is easy.  One drawback to a network connection is the wait time.  If a number of employees are trying to print simultaneously documents will quickly get held up in the print queue.
Consider the Cost of Replacement Parts
Parts like print heads, drums, fuser assemblies or transfer belts all have a limited life cycle.  Keep track of the wear and tear on your machine and replace printer parts at the recommended time as stated by the manufacturer.  Some printer parts can be just as expensive as the printer and at times it may be cheaper to get an entirely new machine if a part goes bad.
When buying a printer, pay attention to the cost of all of the consumables, not just the cartridges.  You probably won't be thinking about the cost of a new fuser at purchase time but you'll be glad you checked the price knowing that you will have to replace it further down the road.
Wi-Fi and Smartphone Capabilities
With wireless capabilities now becoming commonplace, printing from anywhere is easier than ever.  Many newer model printers also provide mobile and tablet printing support. Apps like HP ePrint and Apple AirPrint offer wireless services designed specifically for your machine. However, Wi-Fi is not without its bugs. Make sure to keep a printer cable on hand just in case your wireless connection decides to get finicky.
Read the Fine Print; Consider the Warranty
A standard printer warranty typically last a year and usually only covers defects to the machine.
Most standard warranties do not cover physical damage or damages caused by improper installation. If you are looking for more coverage your printer manufacturer might offer an extended warranty. Extended warranties cost extra but cover maintenance parts like drums and transfer belts.  Depending on your office's track record with printers, it may be worthwhile to invest in an extended warranty.  But if you properly maintain your machine you should be fine without it!
Read Reviews
Once you've got your list of potential printer suitors whittled down, take a moment to read reviews. Getting the opinion of a consumer that's spent close personal time with your printer will give you an honest perspective on the machine's performance and actual capabilities.  Amazon is a great place to start but other reputable reviews sites include PCMag and Cnet.
Choosing the right printer for your small business is daunting if you start the hunt without a direction. Take the time to research each machine, weigh your needs and read reviews. After factoring in these helpful tips the buying process will be easy and lead you to a printer your entire office is happy with!
About the Author
Based in Long Beach, Eric Stowell writes and researches for InkCartridges.com.  When he's not reading up on the latest and greatest ink cartridges on the market, his interests include camping, hiking and traveling.